Making good progress
Wednesday, September 21, 2022
Our contractors have been making good progress on construction of the South Waikato National Grid Connection between Arapuni and Putāruru.
At the Arapuni-end where the connection begins, we've completed the installation of the cable along Powerhouse Road, which leads down to Transpower's Arapuni Substation.
53 of 71 of the poles to support the overhead line section have been erected, and 1.8km of 110kV cable has been installed for the underground section. Installation of the cable ducting and construction of the joint bay at our Putāruru Substation where the connection ends is well underway.
See the map below for an overview of where the connection is going.
Traffic management has been in place to allow the teams to work safely. A big 'thank you' to residents and road users for your patience while this work is carried out. We know lane closures are not convenient, and we're doing our best to minimise the disruption to you.
Watch our video below for more information about the progress of this project.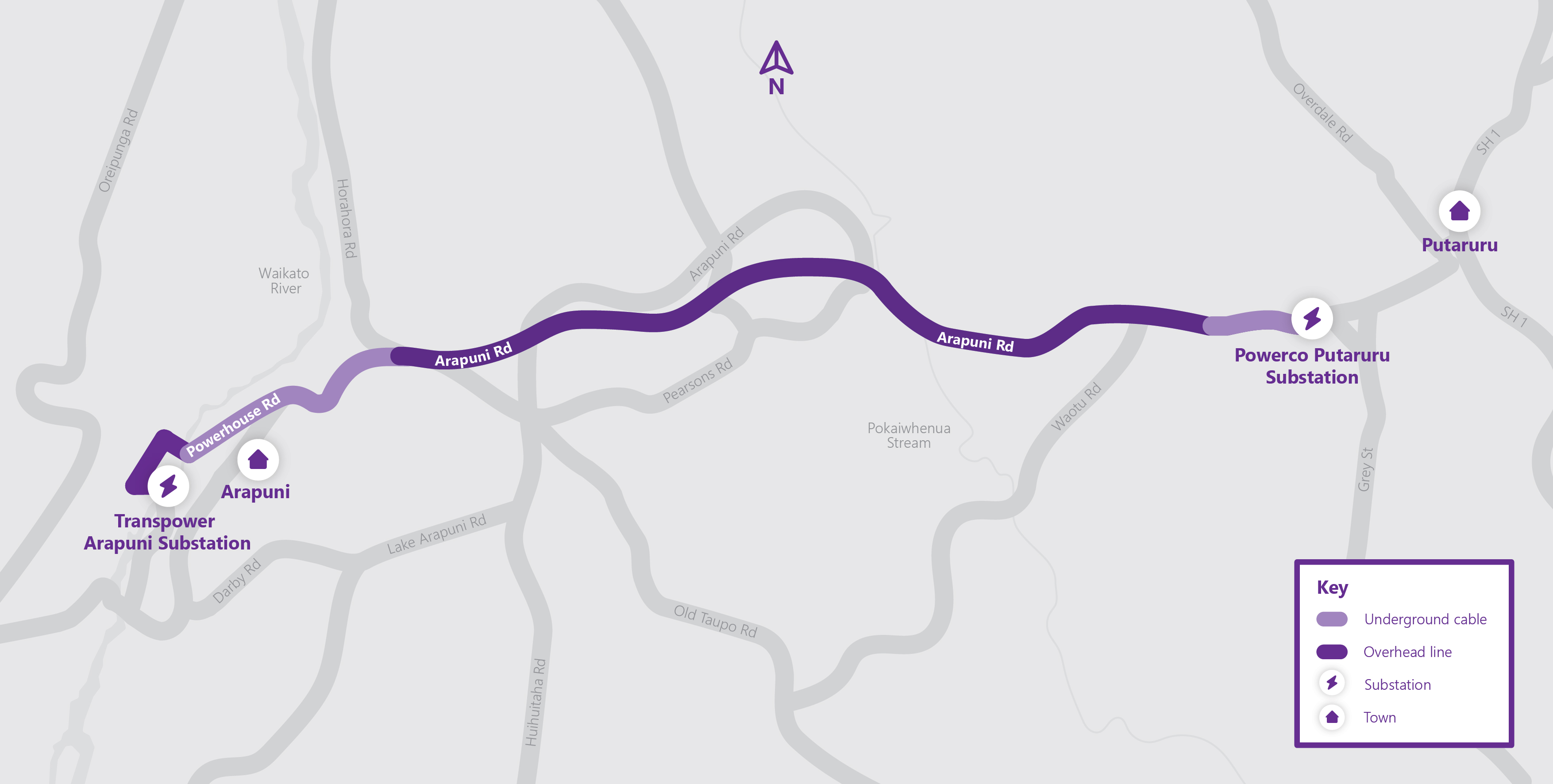 Project update

Connection Commissioned

Tuesday, March 21, 2023

The South Waikato National Grid Connection is now on load.

View more

Project update

Stringing the lines

Thursday, November 03, 2022

We're using helicopters to install lines for the South Waikato National Grid Connection. Road diversions and planned outages will be in place.

View more

Project update

Helicopter help

Thursday, May 05, 2022

We've been using helicopters to help with the construction of the South Waikato National Grid Connection.

View more

Project update

Blessing our mahi

Tuesday, March 15, 2022

We recently blessed the start of construction of the South Waikato National Grid Connection.

View more

Project update

Starting construction

Thursday, February 03, 2022

Construction of our $43m South Waikato National Grid Connection has begun.

View more

Project update

Incorporating feedback to finalise the design

Friday, July 02, 2021

We're incorporating feedback from the community, council and Iwi to finalise the design of our new circuit.

View more

Project update

Finalising the route

Thursday, June 17, 2021

We're working towards finalising the detailed design.

View more

Project update

Continuing our detailed design

Monday, March 22, 2021

We're continuing to work with the local community to finalise the route for our new circuit.

View more

Project update

Working with you - route options

Tuesday, December 15, 2020

We're working with residents to determine the route that part of the circuit will take.

View more