Blessing our mahi
Tuesday, March 15, 2022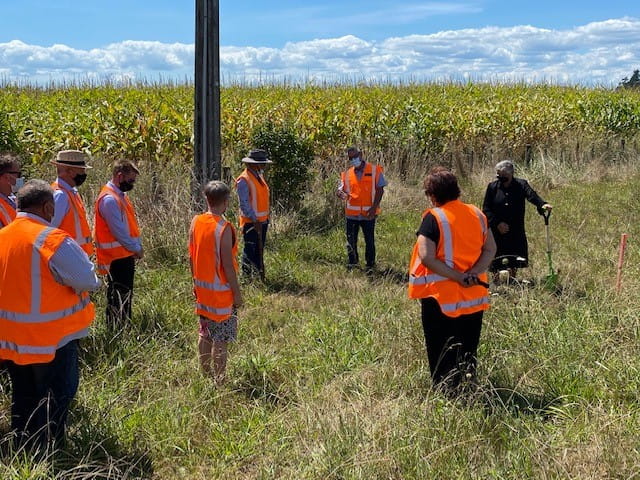 Members of the South Waikato National Grid Connection project team, along with our CEO James Kilty, Northpower representatives and South Waikato District Council Mayor Jenny Shattock were recently guests of Ngāti Ahuru hapū at Mangakaretū Marae near Putāruru to bless the start of construction.
Their Koroua led the turning of the soil and a karakia, before everyone returned to the marae for a pōwhiri and afternoon tea.
Our contractors Northpower will be constructing the connection, which started earlier this year and will continue through until mid-2023.
There's a lot of mahi ahead for the team, and we wish them well over the coming months.
Project update

Connection Commissioned

Tuesday, March 21, 2023

The South Waikato National Grid Connection is now on load.

View more

Project update

Stringing the lines

Thursday, November 03, 2022

We're using helicopters to install lines for the South Waikato National Grid Connection. Road diversions and planned outages will be in place.

View more

Project update

Making good progress

Wednesday, September 21, 2022

Our contractors have been making good progress on construction of the South Waikato National Grid Connection between Arapuni and Putāruru.

View more

Project update

Helicopter help

Thursday, May 05, 2022

We've been using helicopters to help with the construction of the South Waikato National Grid Connection.

View more

Project update

Starting construction

Thursday, February 03, 2022

Construction of our $43m South Waikato National Grid Connection has begun.

View more

Project update

Incorporating feedback to finalise the design

Friday, July 02, 2021

We're incorporating feedback from the community, council and Iwi to finalise the design of our new circuit.

View more

Project update

Finalising the route

Thursday, June 17, 2021

We're working towards finalising the detailed design.

View more

Project update

Continuing our detailed design

Monday, March 22, 2021

We're continuing to work with the local community to finalise the route for our new circuit.

View more

Project update

Working with you - route options

Tuesday, December 15, 2020

We're working with residents to determine the route that part of the circuit will take.

View more