Incorporating feedback to finalise the design
Friday, July 02, 2021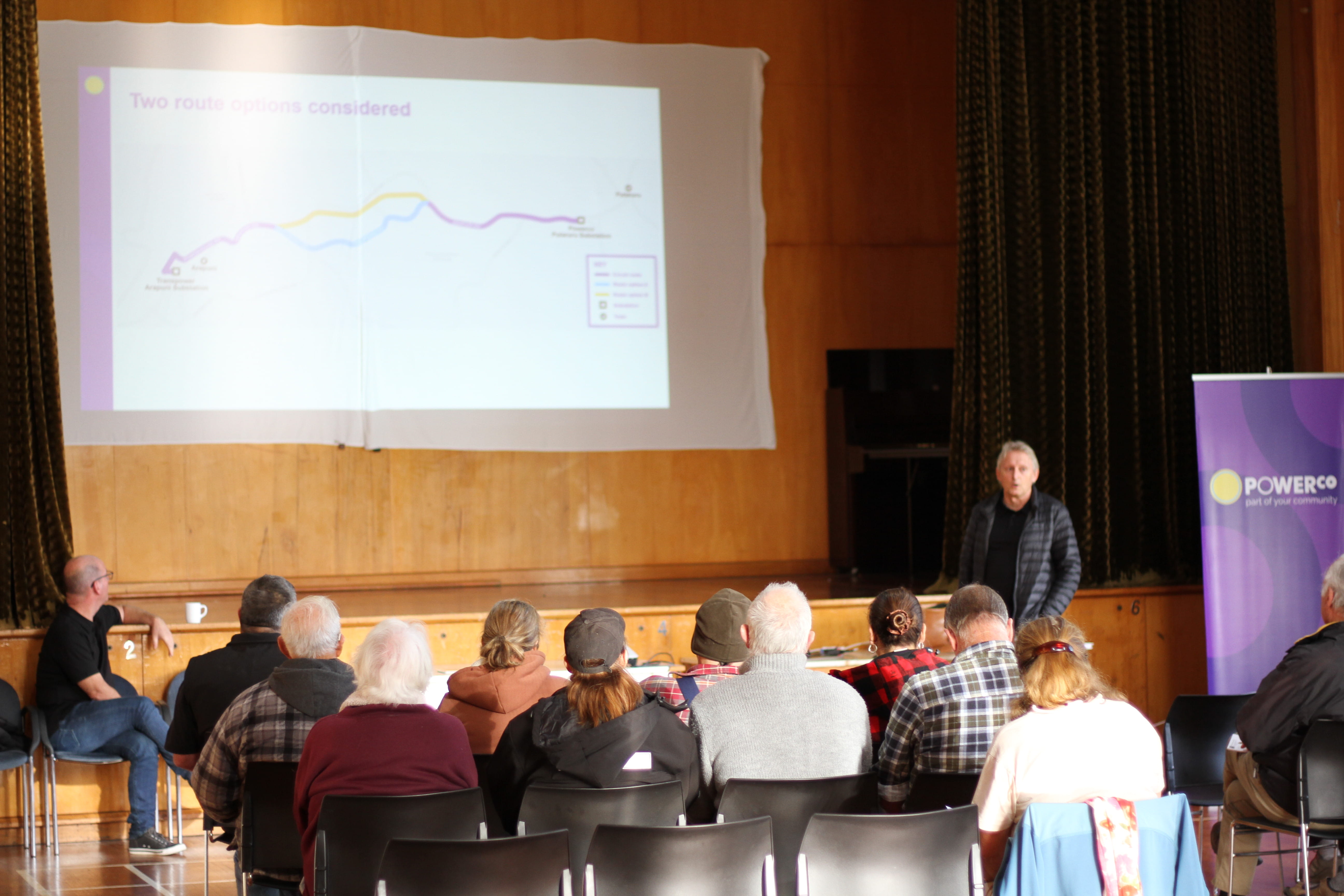 On 28 June 2021 we visited Arapuni and Putāruru to talk with the community about the South Waikato National Grid Connection project.
We provided details about the project - such as the confirmed route, what poles will look like and next steps. We shared our pole placement map, which is in the process of being finalised as part of our detailed design. Click here to view the map.

We also listened to feedback from the people who live, work and enjoy the amenities along the route.

Some of the feedback concerned the impact overhead sections of the circuit will have for residents living along the route and users of the Pokaiwhenua Stream swimming hole and nearby Duxfield Reserve.

We're now reviewing all feedback and, where possible, it will be incorporated into the final design to reduce visual impact.
I particular, we're currently assessing alternative overhead line routes for part of the connection - to see if the visual impact on the Pokaiwhenua Stream and Duxfield Reserve areas can be minimised.
We aim to have the assessment completed early next year and we've engaged independent, external experts to provide input so we can be confident the options are considered thoroughly.

To keep the overall project on track, we're starting construction for the sections of the route that are confirmed, while we work to determine whether the line route can be adjusted.
We've also updated our FAQs to answer questions raised around health and impact on technology (such as wi-fi and satellite dishes).
Along with this community feedback, we're incorporating feedback from Iwi, South Waikato District Council, and traffic safety experts to finalise the design.
The design will be finalised in August, following staking and walkovers of the final pole placement refinements (you can read more about staking and walkovers here).

In September, preparation work will begin, which includes undergrounding some of the existing overhead poles and wires along the circuit route.

Construction of the circuit is scheduled to begin at the start of 2022.

The best way to stay up-to-date on this project – including what our finalised design looks like is to sign up for project updates using our form here.
Project update

Connection Commissioned

Tuesday, March 21, 2023

The South Waikato National Grid Connection is now on load.

View more

Project update

Stringing the lines

Thursday, November 03, 2022

We're using helicopters to install lines for the South Waikato National Grid Connection. Road diversions and planned outages will be in place.

View more

Project update

Making good progress

Wednesday, September 21, 2022

Our contractors have been making good progress on construction of the South Waikato National Grid Connection between Arapuni and Putāruru.

View more

Project update

Helicopter help

Thursday, May 05, 2022

We've been using helicopters to help with the construction of the South Waikato National Grid Connection.

View more

Project update

Blessing our mahi

Tuesday, March 15, 2022

We recently blessed the start of construction of the South Waikato National Grid Connection.

View more

Project update

Starting construction

Thursday, February 03, 2022

Construction of our $43m South Waikato National Grid Connection has begun.

View more

Project update

Finalising the route

Thursday, June 17, 2021

We're working towards finalising the detailed design.

View more

Project update

Continuing our detailed design

Monday, March 22, 2021

We're continuing to work with the local community to finalise the route for our new circuit.

View more

Project update

Working with you - route options

Tuesday, December 15, 2020

We're working with residents to determine the route that part of the circuit will take.

View more