Partners in innovation
Thursday, May 19, 2022
Powerco has partnered with New Zealand start up Emrod which is developing innovative wireless power transmission. It's another exciting example of Powerco's commitment to innovating for its customers.
Emrod's technology works by converting electricity into electromagnetic waves that can be sent directly over the air to receivers and converted back into electricity. The only limitation on the distance it can travel is line of sight.
The partnership with Powerco followed an industry showcase that saw Emrod demonstrate a prototype of its technology. That prototype was partially funded by a government grant and developed in co-operation with Callaghan Innovation.
Thanks to Powerco's funding Emrod has since developed a new prototype and completed a successful indoor demonstration for the Powerco team.
Emrod founder and CEO Greg Kushnir says the partnership gives his team confidence they're on the right track.
"Working with forward thinking industry partners like Powerco has been an important part of our strategy to ensure our system meets the requirements to be commercially viable," he says.
Putting the technology through its paces
Key to its viability will be further demonstrating the safety, efficiency and reliability of the Emrod technology, as well as its suitability for a range of real-world applications.
Powerco's Network Transformation Manager Ric Barbiellini says power output will be key.
"Emrod has now successfully demonstrated that they can transmit wireless power in an indoor environment,'' he says.
"We're keen to see whether Emrod can now increase the power output of the prototype for long range power transmission."
With the indoor trial successfully completed the Emrod team are now turning their sights to trialling the technology outdoors and over longer distances.
Real life application
While indoor wireless power transmission has potential applications in industrial settings, such as for charging robots on a factory floor, Powerco's interest lies in whether the technology can be used to complement its existing electricity distribution network.
For instance the technology could be used to deliver power to customers in remote or challenging areas, or to temporarily provide continuity of supply when maintenance on the network is being carried out.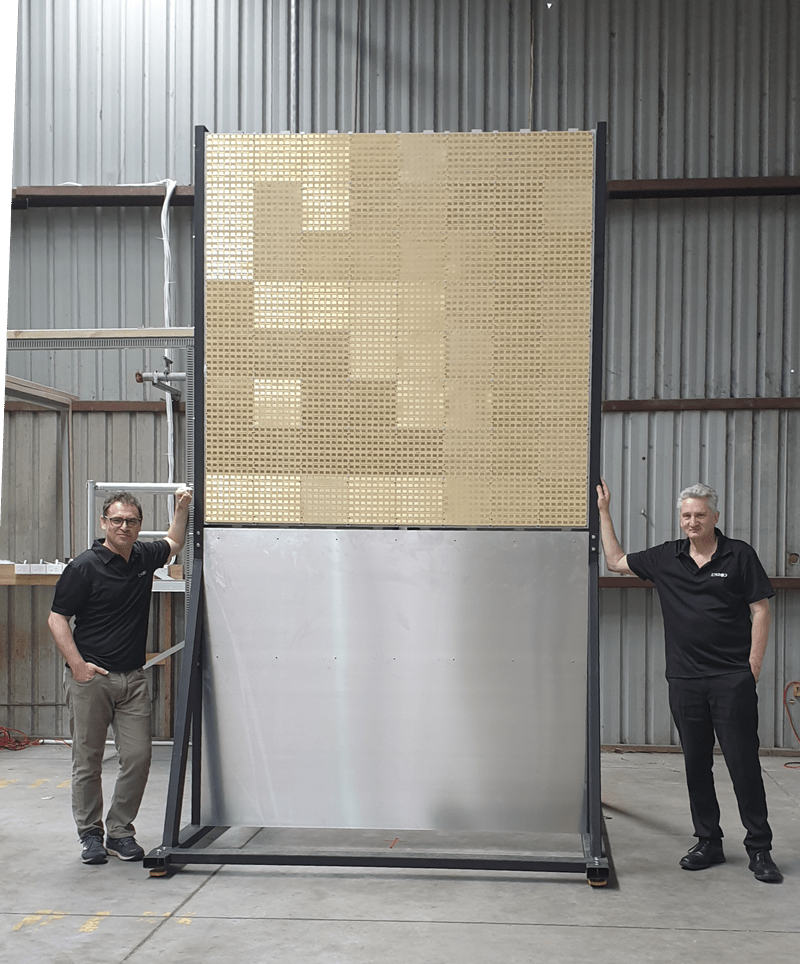 The Emrod team with their wireless power transmission prototype.