Pole top photography - Summer 2022 - 23

Between November 2022 to March 2023, we used low-flying helicopters to take high-resolution photographs of some 50,000 power poles, lines and associated hardware on our electricity network across Bay of Plenty, South Waikato, Manawatū, Taranaki and Wairarapa.

We do this annually, to find and fix any problems to help keep the lights on for our customers and communities.

In this recent round, we were particularly focused on power poles in the Wairarapa and Manawatū regions, as we haven't surveyed these areas in detail in previous surveys. The flight areas are indicated by the purple lines on each map: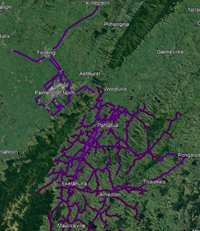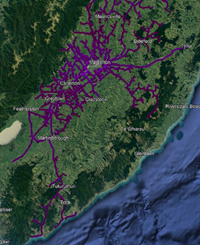 Some statistics:

1. We assessed 49,620 power poles

2. We identified 6,048 Amber defects, these are defects that have the potential to cause a fault and are assessed on a risk basis and then remedied.

3. We identified and remedied 119 Red defects, these are defects that are likely to cause a fault on the network in the near future and need to be remedied ASAP.

We also diverted the programme near the end to survey three feeders, following Cyclone Gabrielle, so that we could help identify issues on power lines that were still causing problems/outages for customers.

We know that helicopter noise can unsettle some animals, livestock or disturb planned events, so we advertised the project via digital advertising, Facebook, radio and newspapers so that our customers could let us know if they had concerns. Our advertising saw more than 5,640 new people visit our website to learn more about the project. Once there, customers were also able to register their concerns through an online form, which our Customer Experience team could then address with them.