Keeping customers informed
Wednesday, March 22, 2023
When Cyclone Gabrielle hit Aotearoa in February, it impacted more than 107,000 of our customers across the communities we serve. At its peak, 48,000 customers were without power.

Keeping our customers and community stakeholders informed about reconnection efforts was crucial, particularly for those without power for a number of days.

Here's a look at our customer-centric cyclone response:

Communicating with our customers and community stakeholders

Using channels such as our website, Facebook and providing regular updates to the news media, our team worked hard to keep our customers informed about outages and reconnection efforts.

As well as sharing photos from our crews on the ground and the work going on in our 'storm room' at our Network Operations Centre (NOC), which was being operated under CIMS (coordinated incident management system) response, our CEO James Kilty and GM Electricity Karen Frew provided customers with the latest information through social video messages. James Kilty also featured on TVNZ's Breakfast show and TV3's Cyclone Gabrielle news special to update customers on power restoration efforts.

Throughout the cyclone, we also leveraged our network of community stakeholders and stood up our Civil Defence liaisons to get information out to our communities through key contacts.

The consistent, clear flow of communication through regular situation reports were well-received by those communities who reported that having a direct line of communication with Powerco made them feel cared for.

That communication was also two-way, with communities able to provide information to our field crews about what was happening on the ground.

Feedback from customers was largely positive, here's a selection of comments on our Facebook page: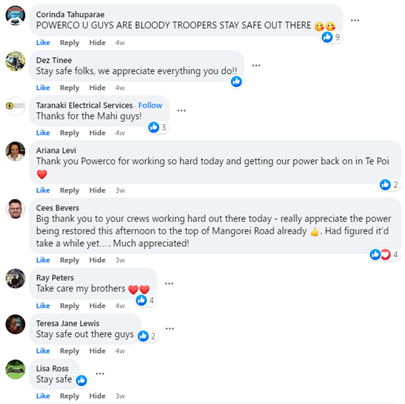 Working with our retailers to provide seamless service

With huge numbers of people accessing our outage management system (OMS) as the storm progressed, access to the system had to be limited to the Powerco team to reduce the load and improve performance. That saw us asking our retailers to stop using OMS to log customer outages.

As a stop-gap solution, we set up a team of eight to provide a business-to-business phone line and a dedicated email address. This allowed customer outage reports from retailer call centre staff to be received, and the information was then entered into OMS by the Powerco team.

Retailer Relationship Manager Adrian Lobb says the response from retailers was exceptional.

"It was really impressive that they changed their process instantly – which is no small thing in large corporate call centres – in order to seamlessly continue helping our customers log their outages," he says.

"It was an exceptional response from all teams involved, ours included, in what was already a very stressful time."

Launching our new and improved outage map

As the impact of Cyclone Gabrielle started to be felt across our communities, we switched over to the new and improved outage map on our website.

Our outage map is a key tool for customers seeking information about outages affecting them.

Between thousands of customers visiting the map simultaneously, and the huge volume of data going in, our existing map was unable to cope.

Our new map – which had been in development following Cyclone Dovi – was pushed live to ensure customers were still able to access the information they needed.

The new map provides more information about electricity outages including showing all outages (the previous map only showed outages affecting 10 or more customers), providing more accurate information about the area affected using polygons, and the status of the job.
Below: Visits to the outages map on our website during Cyclone Gabrielle.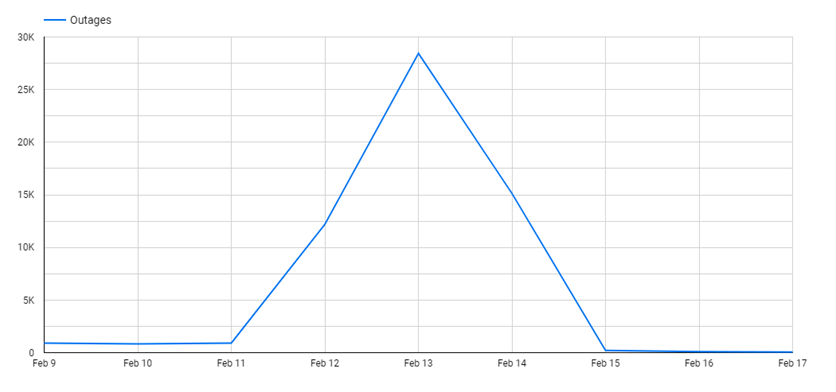 Following up with customers
The cyclone resulted in a huge number of outage calls and website enquiries coming through to our Customer Services team at NOC, pushing them to capacity.
To help, our Wellington-based Customer Hub team stepped in to conduct follow-up calls with customers who needed assistance beyond simply logging their outage.
The team phoned customers to provide updates on reconnection efforts, to refer them to groups such as Civil Defence if they were in need of further assistance, or just to offer some reassurance.
Customer Hub Manager Jacqui Ritchie says customers were appreciative of the contact.
"Yes, some of the calls were difficult where customers were stressed, frustrated or in very difficult situations. But they were also appreciative that someone was getting in touch.
"Even if we didn't have specific information about when they'd be reconnected, they were grateful for the reassurance that we knew they were without power, and that we were working as hard as we could to get them restored."
Project update

Minimising outages in storms

Monday, April 12, 2021 View more