Click here to view the interactive map showing coverage area.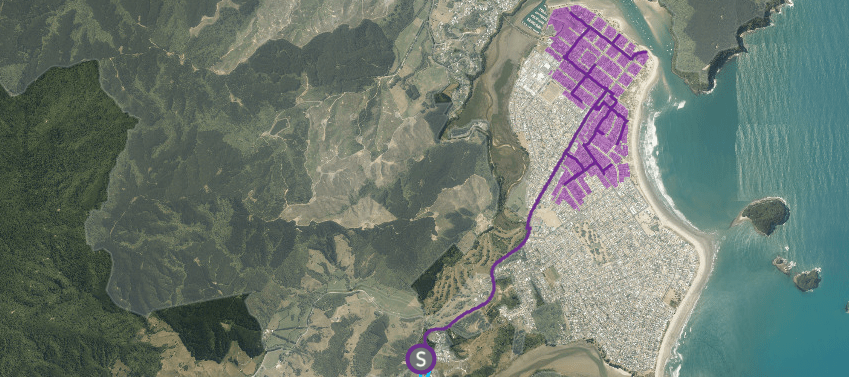 Customers in Whangamatā's central business district (CBD) are experiencing fewer power cuts following the connection of a battery energy storage system, or BESS, just south of the beachside town.
The BESS turns on if there's a power cut affecting the Whangamatā CBD area, reducing the impact to our customers. In the year to 31 March 2021, the BESS turned on 59 times.
"Because it happens instantaneously, customers within the BESS zone don't notice there's an outage. The power simply remains on," Powerco Development Planning Manager East Gabriel Lim says.
The BESS, which began operating in early 2020, can supply power to almost 1400 customers in the CBD (see coverage area map), minimising disruption during peak business periods. This can be extended to mixed business-residential customers in the area surrounding the CBD – about 1880 customers.
"For Powerco, the BESS technology is new, so we're still learning to harness its full capabilities. However, overall, the BESS has improved security of the electricity supply to the community, particularly those in the Whangamatā CBD.
"In a planned outage in September 2020, we extended the coverage area to pick up more customers than what the BESS was originally intended. This meant their power stayed on via the BESS, allowing our field crews to carry out work safely on the power poles and lines in the area without disrupting customers' power supply," Gabriel Lim says.
According to Thames-Coromandel District Council South East Ward Councillor Terry Walker, Whangamatā people are noticing the difference.
"We're definitely noticing fewer outages, especially during the winter months and when the town is very busy over the peak season.
"The 59 times BESS has 'kicked in', highlights the power continuity of supply that BESS brings and recognises the efforts Powerco has gone to in providing an innovative solution to improve resilience of our town's power supply," Terry Walker says.
"A secure power supply is crucial for our town. It ensures that business can operate with confidence and provides the benefits to a modern functioning town for locals and visitors.
"The rise and acceleration of digital media and online communication requires a secure power supply to be effective. Powerco's BESS has ensured we can manage this new way of doing business with confidence.
"We appreciate the communication and support Powerco provides for our town and district, he says.
Thames-Coromandel District Mayor Sandra Goudie calls the BESS a "success story".
"Reliable power and connectivity is so important to our communities – to be able to power up their devices to work from home, to keep in touch with loved ones and receive alerts and warnings in times of emergencies," Sandra Goudie says.
"For the number of times the battery's been activated, with no disruption that people were aware, means it's working and is a success story. I applaud and thank Powerco for their commitment to making this project happen for our district."
Paired with a large-scale generator and bespoke network switching system, the grid-scale BESS is capable of supplying the CBD area during peak business hours for 1-2 hours while the fault on the network is located and repaired. When paired with the generator, it could maintain that supply indefinitely, as long as the diesel tank is kept fuelled.
Why the BESS is needed
Whangamatā's electricity is supplied by a single 33,000-volt line running through some rugged terrain from Waihi.
Historically, it has experienced damage from severe weather, tree felling and several other asset failures. When the line is damaged, power is cut to more than 5,700 properties. Many of these are businesses. Reducing the risk and duration of power cuts minimises any adverse economic impact to the area and community.
The BESS was installed to provide a more secure power supply to our Whangamatā customers.