Supporting rural communities
Tuesday, February 28, 2023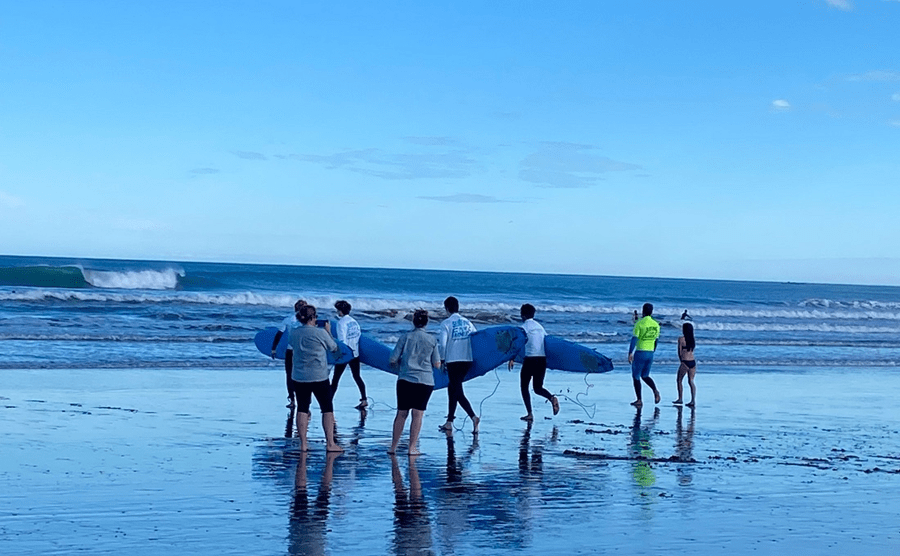 Powerco is proud to partner with Surfing for Farmers, a learn to surf initiative to help improve mental health and wellbeing within rural communities.

Surfing for Farmers is a rural support initiative that has been growing in popularity around Aotearoa since its inception in Gisborne in 2018.
The programme gives farmers a chance to step away from their business, learn something new and spend leisure time with friends, family and industry professionals.
Powerco, as a 'local legends' sponsor, supports six of the 22 programmes running in:
Waihi Beach in Coromandel
Pauanui in Coromandel
Mt Maunganui in Tauranga
Opunake in Taranaki
Fitzroy in Taranaki
Riversdale in Wairarapa
Last season (Summer 22/23) between these locations, 78 sessions were held with approximately 40 participants.
Customer and Communications Strategy Manager Oliver Vincent says it's a great opportunity to support the rural communities Powerco serves.

"Our networks are located alongside some of New Zealand's most stunning coastlines, and within our most beautiful rural areas. We're proud to connect the people who live and work in these places together for a great cause."

Richard Moore who coordinates the Riversdale programme says he's grateful for Powerco's support.

"Powerco's sponsorship has enabled Surfing for Farmers to purchase surfboards and wetsuits for some of the more remote regions like the Wairarapa. Thanks to the sponsorship our local branch now has everything we need to provide a free lesson for our farmers. The sponsorship also helps with the weekly running of the events and keeps our farmers well fed after a surf! ."

Along with helping to purchase surfboards and wetsuits to help run the programme as a local legends sponsor, Powerco is providing BBQ supplies when it's the team's turn to host a night post-surf lesson. There's also swag to help the budding surfers make the most of their beach time - including dry bags, bucket hats, water bottles and sunscreen.

To find out more about Surfing for Farmers visit surfingforfarmers.com