Laptops new lease on life at local schools
Thursday, October 28, 2021
Online learning has just got a lot easier for students at New Plymouth's Marfell School with the donation of 30 laptops from local energy company Powerco.
Following a business-wide technology upgrade, Powerco looked at ways to support its communities while also being sustainable.
The result has been the distribution of around 300 laptops to lower decile schools across its network. Marfell School, as well as Stratford's Avon School, are the Taranaki schools to receive laptops.
"The generous donation of these computers is huge," Marfell School Principal Janet Wilson says.

"These devices will enable some of our families to have access to devices in their homes if we face another lockdown situation with COVID. Some whānau have access to cellphones only for digital learning and this is not always available for tamariki to use for home learning during lockdowns."

The laptops will also be an invaluable tool in the classroom, she says.

"They are very important in supporting our education programme to significantly improve learning outcomes. It offers our tamariki digital citizenship and enhances their future outcomes through blended e-learning pedagogy and gives our tamariki a chance to access one-to-one devices in a classroom."

Powerco's Information Services Team cleaned and prepared the laptops, ready for the children to use.

"Powerco regularly updates its computers," Powerco Chief Information Officer Brigitte Colombo says.

"As a company, we believe in supporting and giving back to our communities and this is one way we can do that. It's also a sustainable way of extending the life of the laptops.

"We selected lower decile schools in each region we operate in. It was important for us to support schools and their communities that had the greatest need for device availability for home schooling during lockdowns," Brigitte Colombo says.
Other schools receiving laptops

• Castlecliff School, Whanganui

• Masterton Primary School, Wairarapa

• Aranui School, Whanganui

• Cloverlea School, Manawatū

• Te Aroha Primary School – Thames-Coromandel

• Coromandel Area School – Thames-Coronmandel

• Te Kura o Wairau – Manawatū

• Lakeview School – Wairarapa

• Arataki School – Bay of Plenty

• Fairhaven School – Bay of Plenty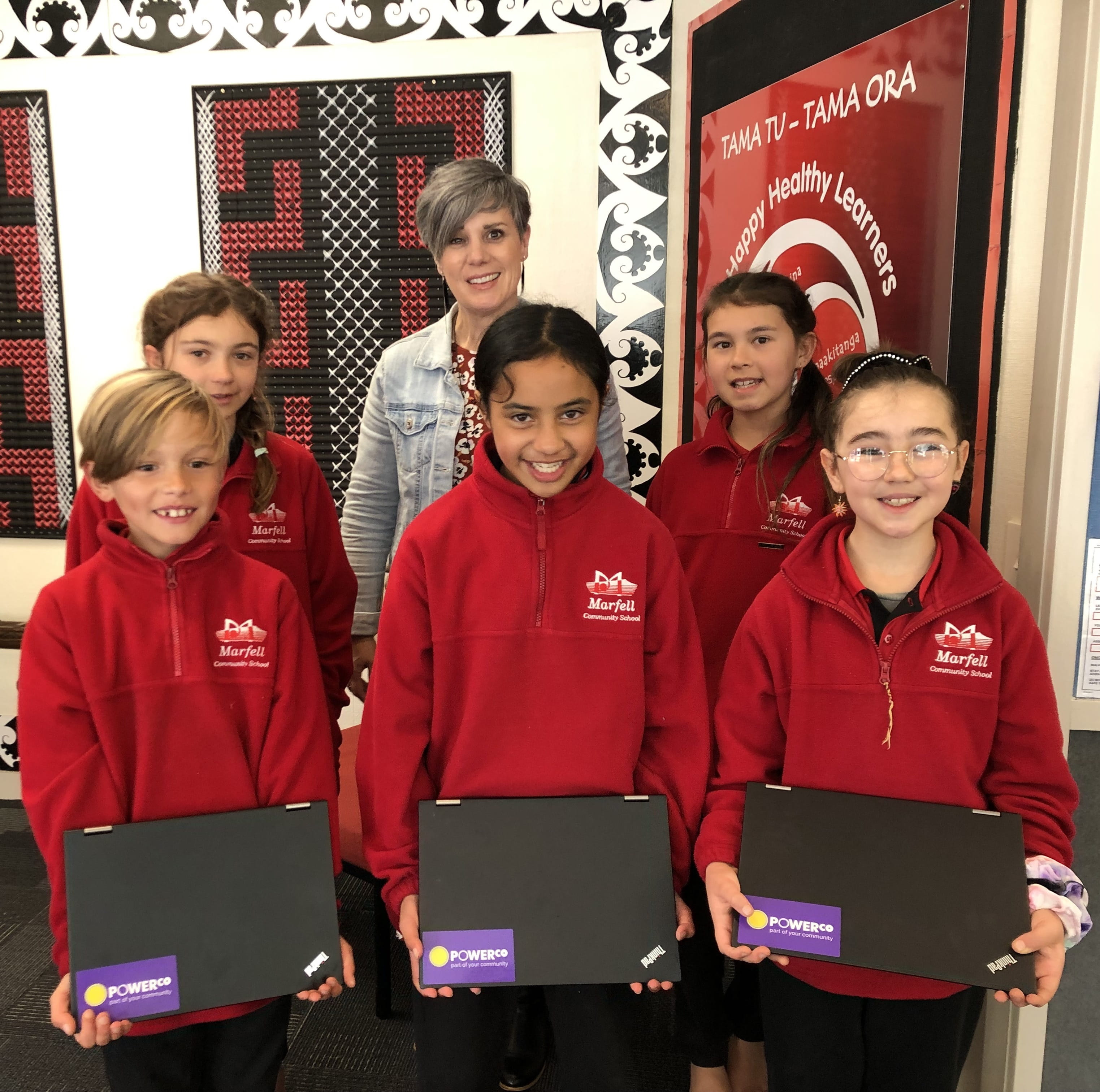 Front row, left to right: Marfell School students with their Powerco laptops, Phoenix West, Leyana Hunia, Estefy Ferro-Pires. Back row, left to right: Leah Richards, Powerco Community and Marketing Programmes Advisor Robyn Towning and Nevaeh Berry.