Here's what you need to know:
We're conducting a planned electricity outage in Whangamatā on 26 October.
The outage is planned for 9am to 3pm.
You'll receive notification from your retailer (the company you pay your power bill to) if you'll be affected by the outage.
You can also check your address on our planned outages page
In the event of bad weather the outage will be cancelled and rescheduled for a future date. (You can use the planned outages page on the day of the outage to check that it's going ahead).
The Whangamatā CBD will remain on
We'll be using BESS (our Battery Energy Storage Solution which provides back-up electricity supply) to minimise the number of customers affected by the outage, including the CBD.
Shops and services in Whangamatā will remain on during the day thanks to the BESS.
However, there will be an outage from 3 – 3:30pm while the customers connected to BESS during the outage are reconnected to the grid.
Click here to view the interactive map showing the area that will remain on using BESS.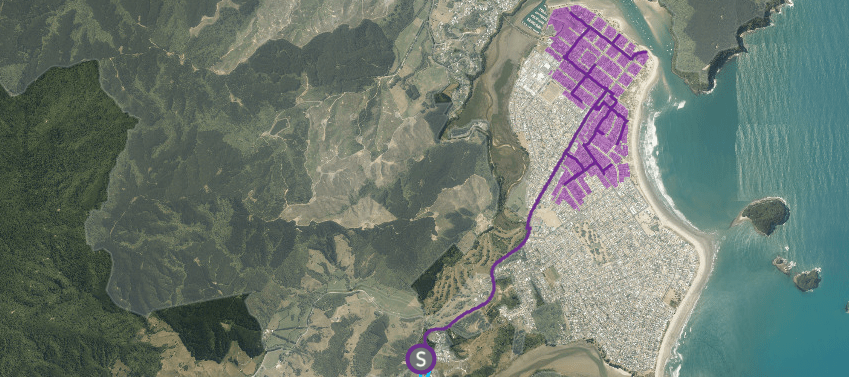 The area of Whangamatā that will remain on supplied by BESS.
What we'll be working on
Our contractors will be replacing cross arms and hardware on our overhead poles between Whangamatā and Waihi.
This work will help ensure the electricity supply in the area is reliable and resilient well into the future.


Planned outage tips
We know power outages – even planned ones – aren't convenient.
Visit our handy outage tips page to get ready for this outage.
FAQs
We do planned outages during the day so our crews can work safely. We understand there's never a convenient time to have a planned outage, so thank you for your patience. Maintaining and improving our network is essential for you to have safe, reliable and resilient power supply.
Switch the unit off prior to the outage if you can. Our crew may remove your service fuse at your service pole or pillar box as an extra precaution, so your power may go off slightly earlier and be restored slightly later than the times in the letter or email from your retailer advising you of the outage.