Taranaki teenage girls get taste of electricity industry
Thursday, June 17, 2021
Waitara High School student Brooke Honnor reckons figuring out where power outages are and how to fix them on Powerco's electricity network could be just the job for her.
"Fault finding looks really interesting. It's something I'd like to learn more about. Being here today, I've been able to see a whole range of different kinds of jobs and possibilities," says Brooke (16).

The year 12 student was one of two dozen young women to spend time today in the nerve centre of Powerco's electricity operations, the Network Operations Centre (NOC). NOC operates 24-hours-a-day, seven-days-a-week to keep the power on and gas flowing to customers.

Part of the Connexis Infrastructure Industry Training (ITO) event, Girls With Hi-Vis, the young women from five North Taranaki secondary schools got a taster of careers in the electricity industry at Powerco's and Downer's shared Junction St site.

The event supports and promotes opportunities for a more diverse workforce, giving female school students the chance to visit infrastructure companies with their school, get hands-on experience and hear from women in the industry.

Powerco's network field contractors from Downer showed the students the ropes of being a linesperson, including taking students up into the air in an insulated bucket truck, showing them the insides of power transformers, and performing pole-top rescue demonstrations.

Spotswood College Year 12 student Sarah Fabish (16), who is also studying to be an electrician through the Western Institute of Technology at Taranaki, says the demonstrations were interesting.

"It's been a great experience to learn what equipment they would use and when. I've really enjoyed it."

Powerco Group Human Resources Manager Emma Bennett says events like Girls With Hi-Vis are valuable in helping develop a more diverse workforce.

"Women are under-represented in our industry and that is something we would like to change. We want to have a workforce that looks more like the communities we operate in.

"Events like this are great, not only for the young women being able to see the opportunities available in the industry, but for our workforce to see this emerging talent coming through. It helps break down barriers," Emma Bennett says.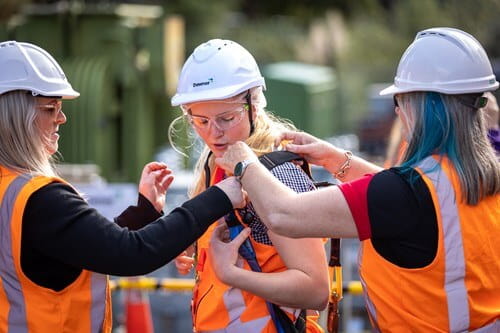 Above: Waitara High School student Brooke Honnor (16, centre) is assisted into her safety harness ahead of taking a ride up in the bucket truck at the Girls With Hi-Vis event hosted by Powerco and Downer.