Replant for Tomorrow makes Wairarapa debut
Monday, July 05, 2021
Powerco has teamed up with Wairarapa arborists, Arb Innovations, to bring Replant for Tomorrow to Greytown for the town's Arbor day celebrations.
With the support of the Greytown Community Board and Greytown Tree Action Group, on Saturday 30 trees were planted at O'Connor's Bush at Greytown Memorial Park. Two larger established trees were planted near the entrance to Greytown Cemetery.

Powerco General Manager Customer Stuart Dickson says it's the first time Replant for Tomorrow has come to Wairarapa.

"Replant for Tomorrow is more than a tree-planting initiative. It's our way of helping to redress the fact that, in order to help keep our customers' power supply reliable and safe, we sometimes need to remove trees if they are too close to our power poles and lines."

Trees cause around a quarter of all power cuts on our electricity network each year – that's about 70,000 people losing power. When overgrown, trees interfere with power lines and make it difficult for our crews to restore power. Also, in high winds and storms, branches blowing into power lines cause power outages.

"We plant new trees in our communities, well away from power lines, to help bring back the environmental balance," Stuart Dickson says.

"We're focusing on Greytown this time but, in future years, we'll look at other sites around Wairarapa.

"Thank you to the Greytown Community Board and Greytown Tree Action Group who have worked together to identify the sites in their town that would benefit from this initiative and liaised with the local council."

O'Connor's Bush is one of the last remnants of lowland forest in Wairarapa.

Arb Innovations Business Development Manager Richard Wanhill says the business is excited about the partnership with Powerco and the Greytown community.

"It's an opportunity to plant more trees in the community that we live and work in. As arborists, we spend our careers pruning and removing trees. Planting trees in the South Wairarapa allows us to give something back."

Click here for more information about other Replant for Tomorrow initiatives.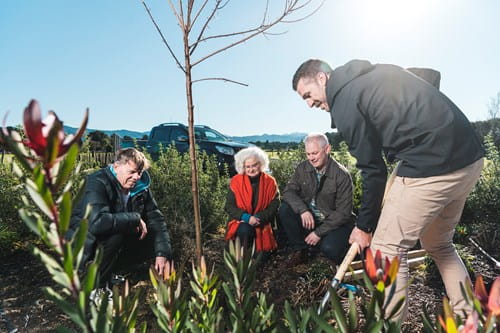 From left: Greytown Tree Action Group's Jez Partridge, Greytown Community Board member Shelley Symes, Powerco General Manager Customer Stuart Dickson and Arb Innovations' James Milcairns at the Replant for Tomorrow event at the entrance to Greytown Cemetery.