Powerco engineer wins EEA Award
Friday, August 06, 2021
Powerco Network Planning Manager Michael O'Brien has been recognised by the Electricity Engineers' Association (EEA), winning the Young Engineer of the Year award at the 2021 EEA conference.
EEA vice president and chair of the award panel, Geoff Douch, says Michael O'Brien had been described by his peers as "one of the most respected young engineering leaders at Powerco".

"This award recognises not only Michael's excellent engineering skills but also his leadership skills, particularly on the need for fresh thinking of how new and emerging technologies will shape electricity networks of the future. Michael also demonstrated excellent management and communications skills and community involvement," says Geoff Douch.

The award win is "still sinking in" for 34-year-old Michael.

"I'm really humbled to be recognised for my contribution to the industry by my peers," he says.

As winner of this award, Michael is eligible to represent New Zealand at the International Electrotechnical Commission Young Professionals Forum, to be held online in early October.

EEA's Geoff Douch says all of this year's young engineer entries were impressive, featuring seven candidates in a wide range of engineering, asset management, regulatory and management roles.

"Michael O'Brien's peers at Powerco say he is not only highly competent, but also respected for his technical and leadership advice.

"He is recognised for making informed decisions based on evidence and works well as part of a team to find solutions."

Powerco General Manager Asset Strategy and Investment, Ryno Verster, supported Michael's entry.

"I've worked closely with Michael for the last six years. Over this period, I've watched him grow from what was already a highly competent and responsible young engineer to one of Powerco's most respected leaders – more than holding his own among much older, more experienced managers and executives," he said in the entry.

Ryno Verster also highlighted Michael's previous role in developing Powerco's CPP application.

As Network Planning Manager, Michael leads a team of around 30 engineers and asset specialists responsible for Powerco's electricity network development and fleet management strategies, and its short and long-term network investment plans. It's a key role in Powerco, identifying, scoping and prioritising around $170m in annual capital and $45m in annual maintenance expenditure.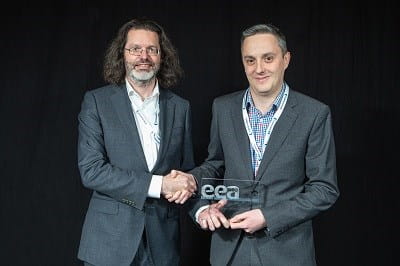 Above: Michael O'Brien (right) receives his award from EEA president Dr Stephen Jay.