Funds secured to protect Greytown's iconic gum
Tuesday, December 14, 2021
Powerco is supporting the Greytown community's drive to save its iconic giant gum, contributing the remaining funds to protect the tree.

The 165-year-old eucalyptus tree, known to locals as the 'St Luke's gum tree', is at the entrance of St Luke's Church on Greytown's Main St. Last week, Arb Innovations reduced the weight at the ends of the branches of the St Luke's gum, with cable bracing of the tree planned for the new year.

A fundraising drive has been underway for more than a year to protect the tree, one of the most significant and oldest trees in Wairarapa. While the community rallied to raise the funds for the tree to be braced, thousands of dollars was still needed to have the crown of the tree reduced, enabling it to survive for many more years to come.

"The Greytown community has done such a fantastic job raising the money needed to brace this important local tree. The arborists recommended, however, for the long-term health of the gum, its crown needed to be reduced," Powerco General Manager Customer Stuart Dickson says.

"The size of the tree, coupled with its busy location on State Highway 2-Main Road and that it's on a corner site, adds up to an expensive job. It's not only the cost of professionally reducing the weight at the ends of the branches of the tree, but also the associated traffic control that's needed while the job is being carried out.

"In our electricity lines business, we know quite a bit about trees, and it's heartening to be able to help the Greytown community protect their special piece of green history for generations to come."

Trees cause around a quarter of all power cuts on Powerco's electricity network each year – that's about 70,000 people losing power. When overgrown, trees interfere with power lines and make it difficult for our crews to restore power. Also, in high winds and storms, branches blowing into power lines cause power outages.

Millie Blackwell, Chair of the Greytown Heritage Trust, who has been involved in the fundraising from the start, said Powerco's support meant the work could finally be completed to preserve the tree.

"On behalf of the Greytown Heritage Trust and the Greytown community we are beyond grateful for Powerco's contribution. This donation meant we could complete all the work necessary to preserve this significant and historically important tree," she says.

Powerco plants new trees in its communities, well away from power lines, to help bring back the environmental balance, under its Replant for Tomorrow initiative. This is the first time it has supported one of its communities in protecting a historically significant tree.

In July, Powerco teamed up with Wairarapa arborists, Arb Innovations, to bring Replant for Tomorrow to Greytown for the town's Arbor day celebrations. With the support of the Greytown Community Board and Greytown Tree Action Group, 30 trees were planted at O'Connor's Bush at Greytown Memorial Park, with two larger, established trees being planted near the entrance to Greytown Cemetery. Also, 550 trees were planted on Waiohine Valley Road by the Waiohine River.

History of the St Luke's tree
Known to locals as the 'St Luke's Gum Tree', the historic Eucalyptus Regnans on Greytown's Main Street was planted by Samuel Oates in 1856 who carried the seedling from Wellington over the Rimutaka Ranges in a wooden wheelbarrow.

It was destined for the property of Charles Carter (the founder of nearby Carterton), but legend has it the three-year-old seedling was stolen from the wheelbarrow while Oates was in the bar of the Rising Sun Hotel. One of the seedlings was subsequently planted in the churchyard of St Luke's, where it remains to this date.

The tree has featured in New Zealand's notable tree register.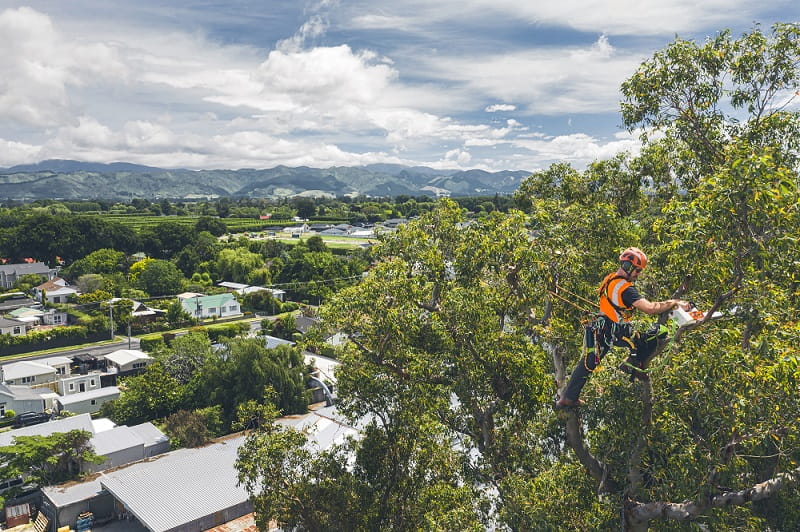 Above: Arb Innovations Powerco Contract Manager and Arborist, James Milcairns, crown reducing the iconic Greytown gum.